Through The Fire
A Woman's Guide To Transformation
Satya Winkelman, M.A.
Satya Winkelman has spent nearly 30 years working as a change agent and now shares her unique five-stage process in Through The Fire: A Woman's Guide To Transformation. Using images of her own sensuous artwork, she takes the reader through the steps on the path to greater authenticity and a higher state of consciousness.
She has a Master's degree in Psychology and Expressive Arts, as well as training in art therapy and is Nationally Board Certified as a Psychodramatist, Sociometrist, and Group Psychotherapist. Satya has been a communication and effectiveness trainer and consultant for Fortune 500 companies, schools, churches and businesses in the USA, Canada, and Europe for over 25 years.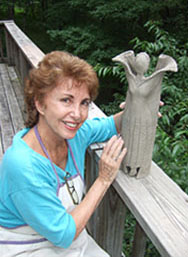 She has designed and facilitated hundreds of Wise Woman Workshops, has been a staff trainer and Program Director for Kripalu Holistic Health Center in Lenox, MA., and was the staff trainer and Director of Psychodrama at Palms Psychiatric Hospital, Sarasota, Florida. Additionally, she was the creator and director of Personal Growth Theatre, an improv troupe of professional mental health workers teaching communication and relationship skills, and was the host of a live TV talk show, Mental Health Matters.
Today, the author continues to teach com- munication for couples and facilitate women's personal growth groups. Satya, the mother of two adult sons, sculpts, works and plays in Sarasota, Florida.
Satya states "It has been a passion of mine to help awaken women to their full potential and throughout my career, I have been encouraging them to do so. It's seems more important now than ever before!. We no longer can look outside for authorities to heal our ills. Each of us must look within to hear our own feminine voice of compassion and emotional expression and learn how to nurture ourselves".